Two Spot Gobi
North Laines Benefit Gig, Komedia
5 March 2007

Bad Science kicked off this very well attended benefit gig. Bad Science met at Sussex Uni and had a very good attendance. Unfortunately I had got to the gig pretty late and did not have the opportunity to enjoy the performance in full, though what I saw was energetic and well applauded.

Next up were Doll and the Kicks. They screeched into a set which at first was a bit cringe worthy. This band erupted with the flair of youthful naivety and played punk simply and to be honest done better by bands like The Grates and the infinitely superb Gossip. Anyhow they got better as the gig went on and the female lead singer bantered with the crowd quite comfortably.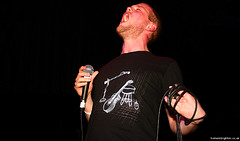 The headline band I had never seen before but had heard loads about and the buzz in the Komedia was tangible to say the least. This six piece played with a swagger and the front man James Robinson could be compared to lead singers such as Jay Kay but without the pretension. This band gel and work as a tight unit which is no easy feat as there are six of them. On paper this really shouldnt work but it really does and its infectious!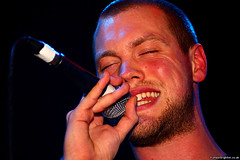 You can not help but move to the music, jazz and funk so masterfully combined. You see many bands in Brighton featuring the usual four piece indie guitar set up, which makes tonights performance so damn refreshing. Rob Lewis sits on the side of the stage playing a cello beautifully and the trumpet played by Matt Ellis compliments each other in a chocolately sound which allows you to drift into a world which you are stimulated by a pure smooth blend of guitar and drums carrying the beat so effortlessly. When you watch Brazil play football you are taken in by the way they make it look so effortless the same could be said about this band and music.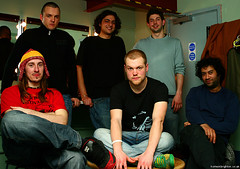 Whenever I go to see a band there are certain things I know Im going to get, for example punk band = thrashing guitars and shouty vocals, indie band = dodgy haircuts and a bit of shoe gazing. When you go to see Two Spot Gobi all the expectations you have go out the window and you become an instant fan of their comfortable ability leaving you to relax and enjoy a sound which is highly infectious. I am reminded also of the Stone Roses which may not be at first an obvious connection but its there in Mr Man, a song which glides and exudes a breezy coolness which paints pictures of summer evenings in my mind. The sound this band produces is so good it can only be a matter of time before they are signed and enjoying national success, you feel you are witnessing something special. The crowd get right into it, dancing and moving to the music which is great considering that is the point of music. Lets Get Lost is a soulful song which sums up this band totally as you feel yourself getting lost in the music and the moment. With the frenetic stage presence of James Robinson and the melodic sound of the band playing behind him when it comes to the encore you know its just a formality. This really has been an eclectic evening; my advice is go see Two Spot Gobi!!
Words: Neil McLennan
Photos: Justin Evans
More Two Spot Gobi photos
More Doll and the Kicks photos
More Bad Science photos
If you would like to use this review, please contact us