To My Boy at Sumo, Brighton, 8 September 2006
To My Boy is a band from Liverpool and as most things that come out of Liverpool tend to be good I figured this band had a lot to live up to. I wasn't disappointed this band makes a great sound when you consider it's a two-piece it makes it even more remarkable. This is a futuristic electro band with a clear Kraftwork influence but with a bit more energy in the dancing stakes. 'I am X-ray' is a clear retro eighties electric fusion of spiky guitar and synthesiser, this shouldn't really work but it does brilliantly and you can't help but not join in the dancing, you feel compelled. The songs are short and sharp and carefully crafted with the vocals complimenting the retro sound. There are a few bands coming out of Japan with a similar sound and it couldn't come at a better time. The futuristic bleeps and jagged guitar creates a sound, which is unique in a music market wary of the new. To My Boy are a really exciting band and challenges the listener to think and concentrate on the music and makes you wonder why am I enjoying this. There is no clear category that you can fit this band in and the band members Sam White and Jack Snape know that they have discovered something new and obviously loving every minute of it. The music conjures up pictures in my mind of robots and old sci-fi classics such as Space Odyssey 2001 with a hint of Flash Gordon.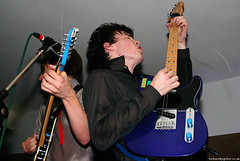 The set is well orchestrated and the music is very tight similar in a way to New Order, the band leave no room for mistakes and commands the attention of everyone in attendance you just can't tear yourself away. Watching this band you get the feeling you are watching something that will become big something new and exciting. The song titles remind me of that film 'Tron' with names such as 'The Grid'. The Sumo Bar is a great venue to watch live bands as it offers an intimate space where the audience feel they are a part of the atmosphere that is being created and being a smallish room the sound resonates and you can almost feel it pulsating through you. These guys are great and their computer inspired sound is truly inspired, you really don't expect what your going to hear with these guys but what you do hear leaves you wanting more. To My Boy are a great band to see live as you get something that you don't always get with four or five piece bands and that's an entertaining and inventive set, don't take my word for it check them out yourselves, you won't be disappointed.
Words: Neil McLennan
Photos: Justin Evans
More To My Boy photos at Sumo, Brighton (On It launch party)
If you would like to use this review, please contact us