The Gossip
Concorde
5 November 2006
The Concorde can get pretty hot no matter what the weather is like outside. The Concorde is a great venue and when it's full the atmosphere is electric. The Gossip headlined tonight on their tour less than a week before they are due back to support The Scissor Sisters at the Brighton Centre, which is a venue with a large capacity but lacks atmosphere. The Gossip is fresh and offers a new and exciting look on the old tried and tested punk formula.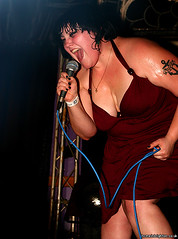 Beth Ditto is fantastic as The Gossips front woman and commands the attention of everyone in the room.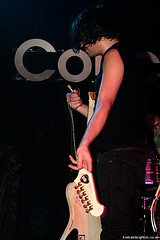 The other members blend in the background making great music. Nathan takes the attention off Beth half way through the show when his guitar head snaps and she seems mildly riled. This girl loves performing and clearly enjoys the adulation she receives from the crowd. Singing unaided by the band while the support act loans Nathan their guitar Beth keeps the crowd entertained. This band have come so far over the past of couple of years they are almost unrecognisable from the band that played to a handful of people at the Ocean Rooms two years ago. I wasn't there but after recent events the people claiming they were may not be able to fit in the Ocean Rooms. The Gossips success over the past few months have been astonishing even for an avid music fan, this is with merit as they have worked really hard and have won over an audience that perhaps in their hometown Arkansas they could not.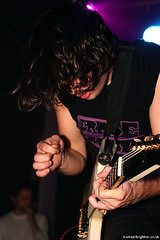 The band grew up in a state that banned MTV, the town according to Beth, is full of serious assholes and bigots, not good if you're a gay musician. You would expect this band to be angry; they are in fact very good-humoured. The band has compiled some great tunes and the lead singer delivers some great lines. Many songs are about love and life such as 'Your Mangled Heart' and 'Are You That Somebody'.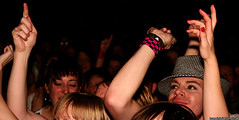 'Standing In The Way Of Control' is a great song and proves to be a favorite amongst the crowd. There is warmth that is extended to the audience and it is reciprocated with vigour. The band play their hearts out and when they return at the end for an encore Beth is wearing a towel on her head as the heat and the exhaustive performance takes its toll. Beth in a recent interview described Gwen Stefani as a bunch of bullshit that, in itself won me over. This band is honest and they rock if they come to a town near you go and see them because no one left the Concorde that Sunday night unhappy.
Words: Neil McLennan
Photos: Justin Evans
More The Gossip photos at Concorde, 5 November 2006
If you would like to use this review, please contact us