Scott Matthews
The Corn Exchange
4 April 2007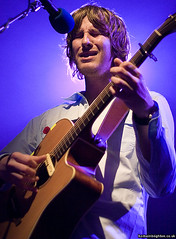 The hushed hall of the Corn Exchange greeted Birmingham singing sensation Scott Matthews with warm applause. The intricate sound of the bass and the guitar calmly encompassing the venue sends the crowd into a hypnotic trance. Scott Matthews has a fairly big following for a fairly new artist, the crowd listened intently as Scott masterfully wove through a set that was at times soft and gentle to another extreme load and fast.
This guy takes you by surprise; you expect the run of the mill stuff from singer songwriters. They are either backed by a band or play solo. Scott mixes it between soft slow harmonies played on a twelve string guitar which produces a fine ensemble of sound. To playing raw and load music backed by a six piece band! The effect is enthralling and you never quite know what is going to happen next.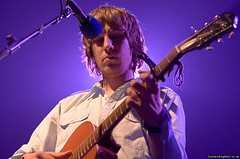 Scott also builds a good rapport with his audience though in the large hall of the Corn Exchange this is somewhat difficult. Youre not going to get a mosh pit at any of Scotts gigs but the man holds himself with the same self assured swagger of Liam Gallagher and it is clear the girls like him. "This has got to be the best gig ever!" Some young lad exclaims "I saw him in Oxford and I had to come and see him again". He certainly has a broad appeal with a sound which is not to dissimilar to Neil Young. I am often reminded of Radiohead though when I mention this to friends after I receive some confused expressions.maybe it's just me.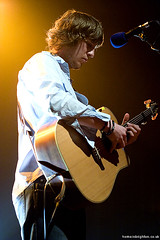 There is a bit of a country and western vibe as well although thankfully it's not too overpowering. Scott's music can't just be catourgorised as just folk there is a hard edge to some of his tunes that wouldn't seem out of place at a rock concert. At times I'm surprised by the variety on offer with this man. His band takes to the stage with a Spaceman 3 like feedback explosion. This can be hard to do without causing the audience to grimace but tonight it works really well.
"Passing stranger" has a typical storytelling quality as is the way with folk music, where as "Dream Song" sounds like it could be at home with Eddie Vedders Pearl Jam. The Neil Young grungy sound is the shining beacon in Scott's music and is instantly captivating. The sound after a while would I fear become a bit tedious but Scott calls time on the gig at just the right point, giving the crowd what they want and leaving them on a high. Any more and it might just have become a bit too much. This guy is not going to better artists like Paolo Nutini in the charts but if you're at a festival this year and you have a raging hangover then my advice is go see Scott Matthews.
Words: Neil McLennan
Photos: Justin Evans
More Scott Matthews photos

If you would like to use this review, please contact us