On It launch party at Sumo, Brighton (On It launch party), 6 September 2006
The Sumo bar in Brighton is similar to the Ocean Rooms with its intimacy, although it has a much more modern decor. The bar upstairs is brightly lit and has a fresh and airy feel. The downstairs bar is darker and the stage although on the slightly small side is the centre piece of the room.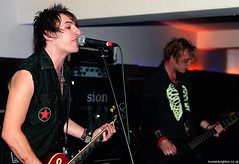 The first band on the bill tonight is Kitty Hudson, and these guys really look the part. Great haircuts, great clothes and some pretty good songs. The singer Ritchie Hudson looks a little like Paul Simonon of the Clash, he also has a similar stage presence to Joe Strummer. The music though is a bit more Greenday, their song 'Deportation from a Backward Nation' is reminiscent of 'American Idiot'. The song is a biographical account of how the band was allegedly kicked out of the States for bad behaviour. The drummer Louisa Hudson (they've all adopted the same surname just like The Ramones and The Coors ROCK ON!!) plays with pace and energy, the rhythm is kept fast and loud. The songs are well executed and are 3 minute wonders, this band is Mc Fly for grown ups and for a three piece outfit make a lot of noise. One of their songs 'Everybody Loves You When Your Dead' sounds like it would be a great track for a vampire film. This band is great fun and well worth going to see if you get the chance.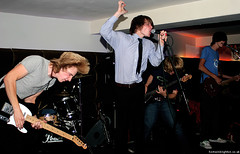 Next up are Sion a five piece band from Andover in Hampshire. These guys are well dressed and play really well, although they do sound a bit too much like another Radiohead clone which is a shame as there are so many around. They work hard and keep it all nice and tight but I did at times find myself looking at the time and wondering what the next band was going to be like. Sion is a relatively young band and they seem to be enjoying themselves. They have great indie appeal and could do very well if they develop their own style.
The headline band Maths class came on stage with a roar which lasted the whole set. There was so much energy emanating from this band, the fact they didn't fall over themselves was a pretty impressive feat. Tim Sketchley the lead singer felt no restraint from the size of the stage and proceeded to cover as big an area as possible. Decked in tight jeans and lots of eyeliner Tim belted out his sharp and spiky vocals over an impressive sound. The drumming was reminiscent of the Bloc Party's Matt Tong with its fast and well timed beats a great backdrop for some very talented guitar playing from Al Damms (bass) and Andy Davies (lead). This band is fast and furious never stopping to draw breath as they belt out their finely crafted tunes. A stand out track 'We Are The Nightlife' sounds fresh and has a great punk un produced appeal, this band are great live as it is all a performance from the highly talented drumming to the charismatic stage swaggering of the front man Tim. This band was a great band to top off a great evening of free entertainment.
Words: Neil McLennan
Photos: Justin Evans
More On It launch party photos at Sumo, Brighton
If you would like to use this review, please contact us