Ladyfuzz at Audio, Brighton, 8 October 2006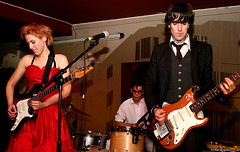 The band Ladyfuzz have been received with great reviews, tonight they play at Audio to a pretty impressive crowd. This band have an uncompromising look about them which suits their musical style. The lead singer Liz looks very striking in high heels and a red dress, the Austrian born front woman belts out her vocals, which has a pure electro punk quality to it. Ladyfuzz are not easy listening but they do have a certain something, which is very hard to define. Like 'Siousie and the Banshees' we have a band with a very strong front woman, with an ultra confident band. The stylish sound mixed with the very fashion conscious look compliments each other very well.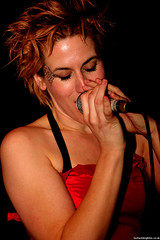 Gareth Parton the producer of the Go Team (also brother of Ian Parton the brains behind the Go Team) and The Pipettes also produces Ladyfuzz. This shows in the classy and professional sound that is emanating around the small room that is the downstairs of the Audio. The Audio is another venue in Brighton, which takes advantage of an enclosed space to bounce the sound of loud music in a similar way to an auditorium and it works, really well. This band grab the audiences attention and pulls them into a world of electro dance, the crowd duly applaud the band after each song. There are a lot of bands that have done this kind of stuff before with perhaps more success. The great thing about Ladyfuzz is they make a huge effort in their live performance. The band is made for live performance with their stage persona and frenetic stop start punk style. Ladyfuzz are a band with a loyal support and will never be forgiven if they ever become part of the mainstream. For a three piece band they make a lot of noise, sharp, concise and very organised. The tunes are hard hitting and catchy and draw you in from start to finish. Songs like Monster and Oh Marie are really good and show this band are no flash in the pan. This band is ultra-cool and have a great future ahead of them, like Peaches and to some extent Moloko they will appeal to all kinds of people.
Words: Neil McLennan
Photos: Justin Evans
More Ladyfuzz photos at Audio, Brighton, 8 October 2006
If you would like to use this review, please contact us