Blood Red Shoes
Engine Rooms
7 October 2006
The Engine Rooms is a basement club on the seafront opposite The West Pier; this club is yet another great Brighton venue which hosts regular live music. Having just endured yet another mind numbingly dull England match, I was well up for going to see a decent band.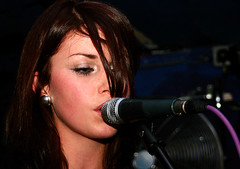 The Blood Red Shoes are a band everyone's talking about and they have just finished recording a session for the BBC. This is a two piece act featuring the very striking and talented Laura-Mary Carter on vocals and guitar with the equally talented Steven Ansell on drums. Based in Brighton this band is embarking on a fairly arduous tour and will from Saturdays performance be in great demand there after.
The drums rattle in a way Matt Tong from the Bloc Party will be fairly familiar with and the sharp and powerful vocals from Laura-Mary compliment the hard-edged drums. This band are very hard to pin down, they have a punk like style to their frenetic explosion of sound mixed with an almost elegant harmony which is really surprising. You can't draw yourself away from this band; Laura-Mary has great stage presence and has competition from a drummer who plays with perfect timing. The sound fills every corner of the small but adequate Engine Rooms, and it all has a hard hitting shrillness which your instinct tells you is wrong but your head says different.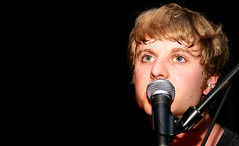 The name Blood Red Shoes I find is very apt as the name has an uncomfortable feel to it yet it sounds great all the same. The set is very powerful and the band plays with a confidence, which ensures the audiences every attention. The songs are angst ridden and the power in delivery is comparable to Jefferson Airplane.
This two piece band has a reverse roll White Stripes look to them, but you can't say that was the inspiration behind this outfit. These guys play with pure passion and work damned hard, they would eat the White Stripes alive. I'm sure this band will go on to great things as they have a futuristic carnivore gothic look to them which will appeal to art students everywhere. It's enough to take your mind off the dire football anyway.
Words: Neil McLennan
Photos: Justin Evans
More Blood Red Shoes photos at Engine Rooms, Brighton, 7 October 2006
If you would like to use this review, please contact us