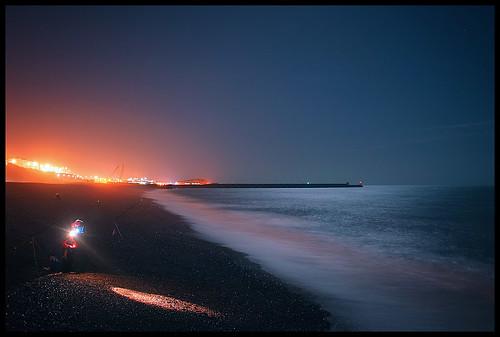 Photo credit: KF ??? (London, UK)
Celeste
esto va mas alla de toda belleza
great shot :)
davefitch
Lovely shot, love the contrast between the bright lights and the still sea
--
Seen on your photo stream.
rg250871
I love the way you've balanced the lighting on the right and the left.
Very subtle stars (in large) - do you get much night sky in Brighton?
somnium!
Yeeah
marcelovale
Great one!
iam4ranny
Congrats, I saw this on EXPLORE!
Please add your Beautiful Photo to: Beauty is in the *Eye* of the Beholder!
KF ???
thanks very much everyone :)
rg250: yeah quite nice if you turn your head towards the channel. the town itself produces a lot of light (as you can see on the left) but generally much better than london!!
Mark Corney
I think the benefit is that the fish are attracted to the light. I don't even know if night angling is legal. Nice Shot
lomojunkie71
gorgeous!
Andrew McKenna
thirteen seconds! wow! bet you were holding your breath the whole time.
KF ???
and resting my camera on a wall :)
Photo reference: 417343012
If you would like you use this photo, or it's original, please contact us.