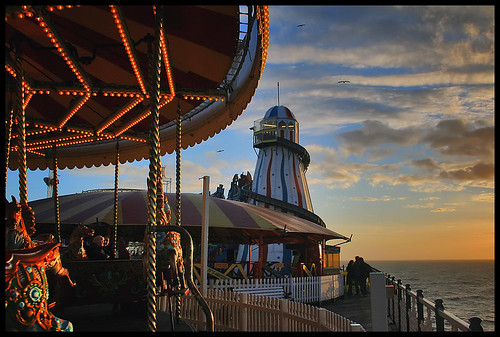 Photo credit: KF ??? ()
Squonk11
Quite nice colours and composition there...
davefitch
Beautiful shot, great composition, love the sky!
--
Seen on your photo stream.
rajue
!!!
curlsdiva
An unusual angle on this oft-photographed pier... lovely composing and terrific light
SFD (professional loungist)
Like the composition. The busy-ness of the left hand side and the hinted at expanse and emptyness of the ocean on the other side.

Nice lighting as well.
jeanneg.
I really like this...the lighting is terrific and really sets a great mood here....

The World Through My Eyes
BOBXNC
Great effect. Looks almost drawn it so sharp, The sky is perfect and the composition outstanding.

--
Seen next to a fellow photo of The World Through My Eyes - Post 2 / Comment Any 1. (?)
Geoff Allen
I really like the composition here. Nicely done!

--
Seen in 1-2-3 (?)
prabhat_photo
very vibrant colours and composition.
flowercat
Fantastic mood and composition. 3-2-1
A.Snarkeye
Yes, something about the balance of lights just near sunset that gives the scene surreality. It does make you understand why the fair (carnival, pageant) is so often chosen as a metaphor for the transitory material world.
Photo reference: 415708632
If you would like you use this photo, or it's original, please contact us.