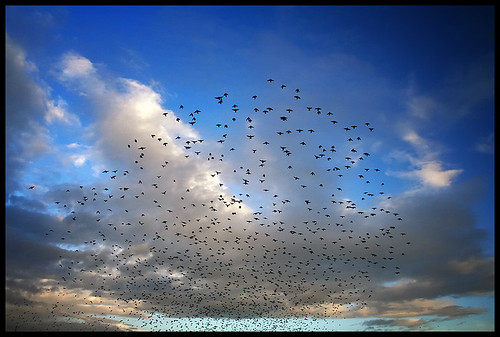 Photo credit: KF ??? ()
ßl?e?ãve
Are they Starlings? Great shot.
gullevek
Hmm, Birds!
curlsdiva
Oh do they still come?? When I lived in Brighton, the West Pier was still (mostly) intact and this 'swarm' roosted there in their many thousands.. A wonderful sight at dusk, this captures it perfectly.
KF ???
yep they do. do you know what they are? starlings? we were terrified that they might decide to swoop down onto our freshly fried doghnuts! :)
curlsdiva
Starlings yes - this roosting flock is the second largest in Europe, I believe, with tens of thousands of birds in the autumn... The predatory gulls will be the ones trying to take your food off you though! LOL
Photo reference: 415708629
If you would like you use this photo, or it's original, please contact us.