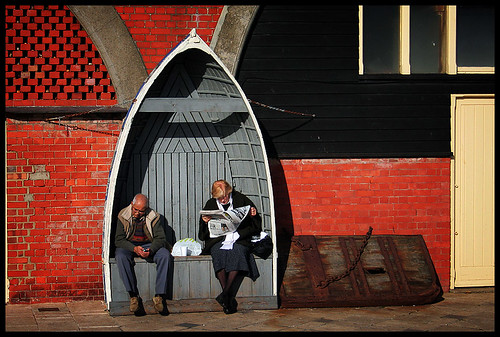 Photo credit: KF ??? (London, UK)
extra-minty
people going mad in the sunshine :O)
Foxglove
you swapped the wilds of the west coast for this!
:-)
Sockeyed
Great light and forms in this one.
edthened_
Och a nice foti !!!!
ßl?e?ãve
This shot isn't the stereotypical Brighton photo - you know, pebbles on the beach and shots of the piers.

Without seeing the tag and your title, it's clear this place is near the sea. The light is lovely, bringing out the textures, and look at all the different shapes.

This is a little slice of seaside life, albeit not the normal scene, capturing that sense of relaxation one finds at places beside the sea. I like it.
curlsdiva
I know this seat well.... you've caught it at a great moment here.. I can hear the swish of the sea on the pebbles now
KF ???
soon after this i bought a wee cup of jellied eels. and no i didn't throw up, but i didn't like it either. purely from the fact i don't like oily fish :) (it tasted of mackrel)
axel hydre
What a great colourful, relaxed shot with loads of interesting texture and detail - really well spotted and captured.

The World Through My Eyes
PopsDigital
This is the kind of picture I'm always looking for and never seem to find. Great find...and great photo.
AntonioArcos aka fotonstudio
great image!!

The World Through My Eyes
Miguel Herrera
Great compositon!!
--
Seen in 1-2-3 (?)
terminal orbit
great! (3-2-1)
nj dodge
That's what I thought it was in the thumbnail. Very cool. (123)
minachom
very interesting.
small fry
great composition, great colours and a humorous view of life. nice one!
1-2-3
Dailyville
Well done--interesting colors, interesting bench and composition.
(3-2-1)
gms
Nice one.
rg250871
Really eye-catching thumbnail on this one (surely the secret of Flickr hit rates!) - love the colours.
rrollriver
Agree with all the above. Lovely photo.
_Honus_
Beautifully composed image.
James Dyas Davidson
Love this. Colours, the people and the comp. Good job.
mdt1960
Great eye you have there.
Toni Ruckwood
Excellent composition. Well spotted!
abject chickens
hehe,cool!:) really great pic.
ajar oil
Do you have Martin Parr's book The Last Resort? I think you'd enjoy it.

crashburnlove.blogspot.com
lomokev
obversely haveing a little sit down after there very exciting visit to the fishing museum

Hi, I'm an admin for a group called Martin Parr WE ? U, and we'd love to have your photo added to the group
Photo reference: 410471102
If you would like you use this photo, or it's original, please contact us.