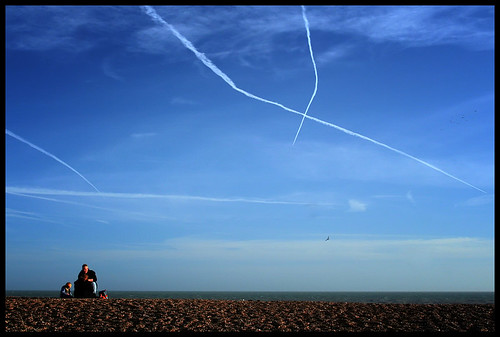 Photo credit: KF ??? (London, UK)
Z!6
Very appealing photo. Very good framing. I also liked the contrails and shade of blue!

--
Seen in my contacts' photos. (?)
elegant observation
gol (guffawing out loud...)
That's a cracker...
ßl?e?ãve
Making the most of contrails, nice one! Somehow that seagull balances things so neatly.

Thank goodness your photographic touch hasn't left you since goin' sauf!
mutbka
It's the Sign, Gary! =)
KF ???
it's beckoning me home!!!! :`-)
jeremyallan
exactly...
fabiolanotte
A very nice shot Gary!
Clashmaker
Seems like there's some traffic in the sky going across 'the pond'..
Oh, sorry, for me - planes are first of first:)
Stephen Dowling
It looks like the Big Wing swanning over Frogside to hit the Abbeville boys while their schnapps hangovers are still hurting, Gary...
KF ???
tally *hic* ho!
Photo reference: 410155257
If you would like you use this photo, or it's original, please contact us.