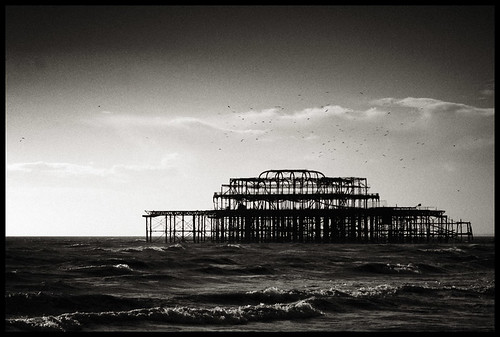 Photo credit: KF ??? (London, UK)
mike warren
Brighton Pier ?
Nice atmospheric pic
humanitarianaid
Brighton's West Pier.

Really sad. When I first moved there (in 1990) it was like Miss Haversham from "Great Expectations" - old and decayed but still wearing an elegant wedding dress. Years of neglect, and a couple of arson attacks, leave us a different kind of ghost.

Nice shot though. You know you could make £50 a pop selling that in the North Laine? ;-)
KF ???
aye it's pretty sad to see it :( however the added drama must have helped the stall owners in selling their's ;)
Sarietha
wow. i love this! wonderful atmosphere - the birds in the sky gives it an extra eerie, desolate feeling
Kenny Muir
Nice treatment. I like the bird dots above it. Hope your having fun down in England!

--
Seen on your photo stream. (?)
Extra Medium
Brighton!!! Hard to miss that thing out there, huh? Probably more photos of it burnt down, than in it's hayday.
KF ???
kenny: i'm still freaking out at the lack of mountains!!
marceline
fantastic and sad !
Time as those waves of yours takes everything again…
cinocino
love this one!

--
Seen in 1-2-3 (?)
Alice Swanson
Love that structure...so photogenic! I have to go there!
The World Through My Eyes
austenhaines
it is indeed difficult NOT to shoot it, but im glad you did as this is one of the better ive seen.

321
Photo reference: 410155255
If you would like you use this photo, or it's original, please contact us.